Sophisticated Scoop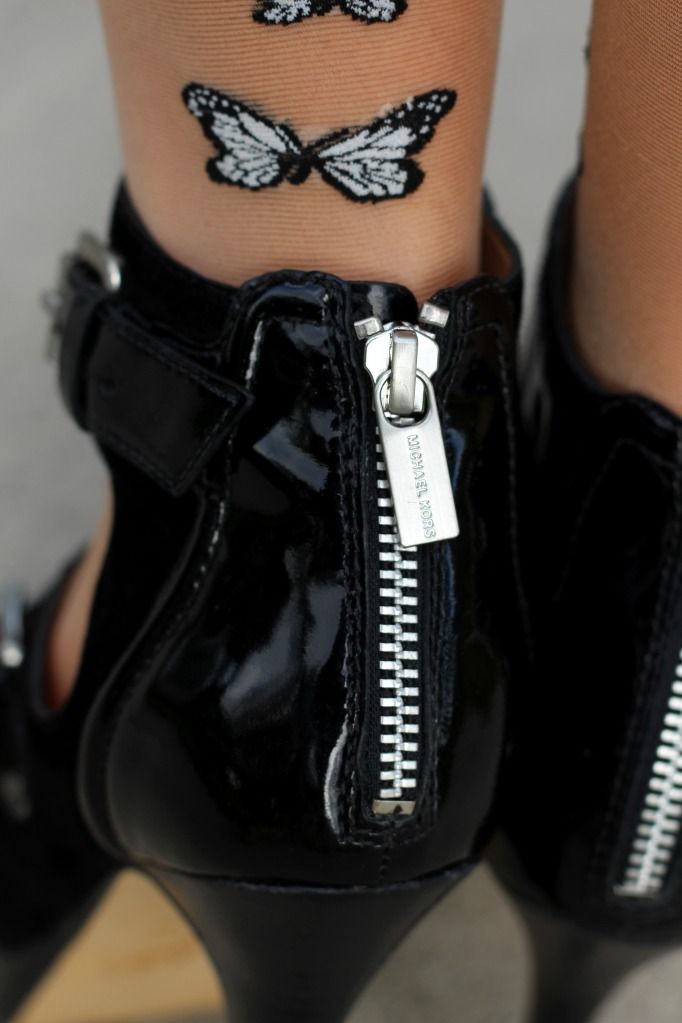 (Cropped faux fur collar cardigan/ Solemio Shape up skirt @ Nasty Gal newer/ Butterfly stockings @ Etsy.com/ Topshop envelope clutch/ Michael Kors booties)
(Charming Charlie spike necklace @ PLNDR buy here/ Claires spiked & chain ring)
Since its been cold out (well to me 60 is cold) Im breaking out the sweaters and long sleeves in full force. I actually got this sweater last year and I have to admit It still had the tags on it, but its Florida's fault I swear! I love the different grays and browns involved in the fur collar of this cardigan, It makes it perfect when pairing with black or brown. This shape up skirt should really be worn in warmer weather- and I cant wait to, but I really wanted to wear it so I just wore sheer stockings underneath. Spikes involved again, of course. Shane said all the fur and spikes reminded him of the
Paleolithic

Era so then he had to convince me for 5 minutes that I didn't look like a cavewoman, but I doubt cavewomen would wear Michael Kors teehee.
So tomorrow is Thanksgiving for all who celebrate, and I for one have been mentally preparing myself for the feast that is a Conkel family Thanksgiving. And for the workout afterwards. And for the stress that is going to be put on my fridge by leftovers. You'll see tomorrow, I'll have a little Turkey Day post up with my outfit and lots of photos of exceptionally tasty food.
Also as an proud shopaholic I am super excited for all of the sales -crazy mall madness not so much. On black friday I'll be out fighting off the crowds so check up on twitter and FB for some of my finds
Lastly- For us online shoppers, check up all weekend long for awesome updates and info on Sales from all of the amazing brands & retailers that will be participating in CYBER MONDAY! I heard there will be alot of flash deals and secret sales announced so keep a look out on my twitter for breaking sale news. Haha, so serious.