Thursday, September 20, 2012
Stila BB cream SPF 35 2 Sephora $39
#56 airbrush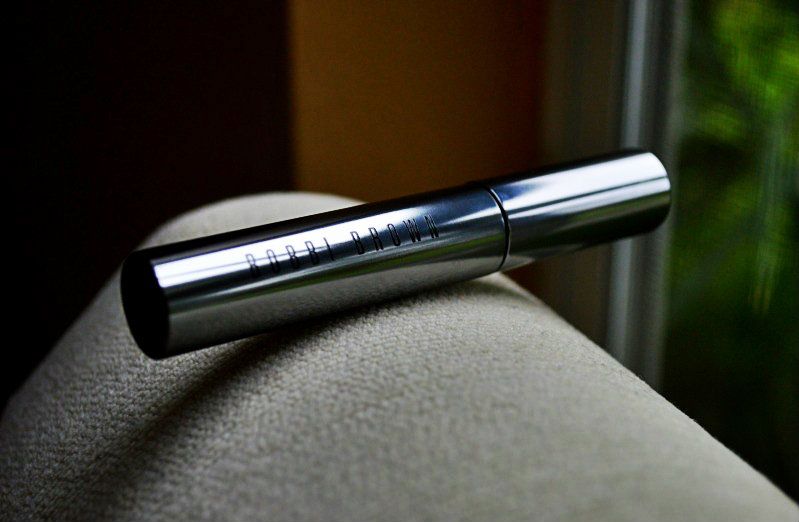 Bobbi Brown black mascara
Hello loves! While patiently editing a bunch of pics from today for my outfit post tomorrow, i thought I would tell you guys about my weekend purchases at Sephora! Well, if you haven't been living under a rock, you have probably heard of BB cream, beauty balm, perfecting lotion, etc., and after trying out countless brands i have finally found one i really like and decided to jump on the bandwagon for! Stilas BB cream is light weight, and has SPF 35 which is perfect coverage for me. I also really like how it comes in a couple skin tones instead of a one-fits all, and there's not an intense SPF smell to it either. Plus this new brush i just got really blends it in well, its a Sephora #56 airbrush. Speaking of BB, I also had to pick up some new super good mascara, mine was starting to dry and flake "/ So I jumped on another bandwagon, but this time for Bobbi Brown!! I love the gel based mascara, it doesn't clump, or flake and thats my pet peeve -I hate clumpy lashes -__- I would really recommend it to you if you don't mind going up a little in price for quality.
XO Check back tomorrow for an Oxblood outfit!
Nat
Monday, September 10, 2012
Sunday, September 9, 2012
With summer coming to a screeching halt and everyone coming back to reality, Fall style and fashion is pushing its way in effortlessly. Even though over here in the sunshine state Summer will probably last for another month or so- I myself cannot wait for a 10, even 5 degree drop in temp. While some of us weren't as fortunate as others to attend Fashion week in one of our Major citys (WAH), as fashionista's we have probably been drooling over runway clips, streetstyle photos, and new trends and designer lines. Dark colors and layers are probably some of my favorite things to work with, and as a Florida girl it comes very scarcely :( I cant wait for dark lips (which I must admit, I'm already donning ;) ), the faux fur, and the Autumn hues. I love how when it starts getting cold and the leaves turn, everyone acts so differently and have this Aura about them. Everyones all romantic and giddy because they want someone to hold by the fire and go to Halloween soirees with- it's all insanely adorable. Which is another reason we're all dressing insanely cute haha. Here's some Fall style insight and fashion Inspiration i have came across and am head over heels for ♥
If my obsession for deep red hues right now isn't evident now, let me make it clear to you guys how much I love it. Right now, I'm already a sucker for any Dark reddish brown lipcolor, with a dark brown shadow- so why not bring this into fashion? Im thinking a pair of leather ankle booties- something really sexy and rugged, or an oxblood satin top. And you have to edge up this look! Lots of black and something with studs is perfect. These Alexander Mcqueen booties are perfect (If you got that kinda cash)
I found this MAC lipcolor in "Hang up" (creme sheen) is the best for non-running, all day intense color, and its not too shiny- almost matte.
Assymetrical hems and cuts are already raging right now, i.e the mullet skirt in all its glory. But lets play with this now that were all comfortable. Super low dips and crazy angles are super chic but still daring enough to be "cool". Just beware of the body-con dresses they can turn trashy real quick. Check out these fabulous heels from Zara and this awesome ASOS bathing suit, which is on sale now at Polyvore!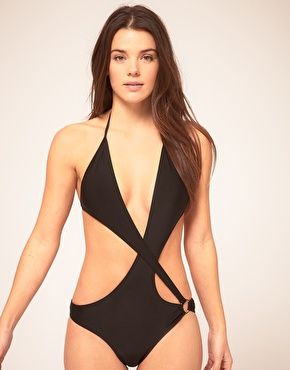 What we saw last from Proenza shows their inspiration stems from the Far East, and they have got some amazing prints, patterns, and silky materials to show it. I for one have always been in love with Asian culture, architecture and style my rooms decor is fully far eastern esque! I have this great kimono from H&M from their Consciousness collection, (I got it on sale for only 10$!) and a vintage oriental silk bag I cant wait to style!
H&M Kimono (last season)
Proenza's Style
As my love for Native american, and southwestern prints just grows larger each day I can definitely say with a smile that these prints aren't going anywhere. Not only are they great for a free-spirited road trip summer, but they are also amazing for fall walks in the pumpkin patches. (Is it lame that I reaaaally want to go on a cheesy haunted hay ride, hehee.) Im obsessed with this
Quiksilver Snowblanket sweater $84.50.
Cause being fabulous isn't easy ♥